Block websites in ISA automatically through import of a block list text file listing domains and using wildcards
ISA Auto SiteBlocker
Description: Will read a blocklist in text form and import them as a destination set in ISA server which you can then add as a site and content rule access policy.
License: Freeware
Latest Version: 1.2, 22 Oct 2002
Changes in 1.2: Allows for a staggering import of large blocklists.
You can now import into an existing destination set.
NOTICE: This program requires the .NET framework on the machine that it is run on! Please update your system (.NET framework not required on the ISA server). go to http://windowsupdate.microsoft.com
About:
This Program will import the line by line contents of a text file (blocklist.txt by default) into an ISA destination set via sending keystrokes to your computer. Since there is no easy way to build a block list in ISA other than buying third party software or manually typing them in, you may find that this program can save you a lot of time by doing the work for you.
The download includes a small sample blocklist.txt file you can use for import. Please see this website for more current versions.
If you extend or fix problems in this list....please send me your updated blocklist.txt file! I want to consolidate yours and add to this site. Make sure the file is clean (as in 1 site per line) and contains no dupes! I will add your name to the website and give you credit. Thank you to any of you that can add to the blocklist.txt file. Email me at software@songwave.com
Importing the 42000+ blocklist into ISA has a negligible impact on server performance! It is unnoticeable (at least I didn't notice anything). The time it takes to query a URL against an alphabetized unique DB list with 100 entries is the same time it takes to query a DB list with 1000000 entries. Its all indexed, its all immediate (similar to your AV software, or Google). There is virtually no degradation. If you do notice a performance hit, I would be interested in hearing about it.
Once importing begins, you must press ctrl-alt-delete to stop it. Keep in mind that if you import a huge list, when it gets to the very end, and completes the destination set, your ISA management console will freeze for about a minute or so while all the data is converted into a DB file on your ISA server, this is normal (it froze for about 30 seconds after each 10k chunk I imported)- don't press ctrl-alt-del during this phase of the import!
screenshot of the utility rapidly creating a list of sites to be blocked (it took about 15 minutes for me to import 10,000 sites into ISA. )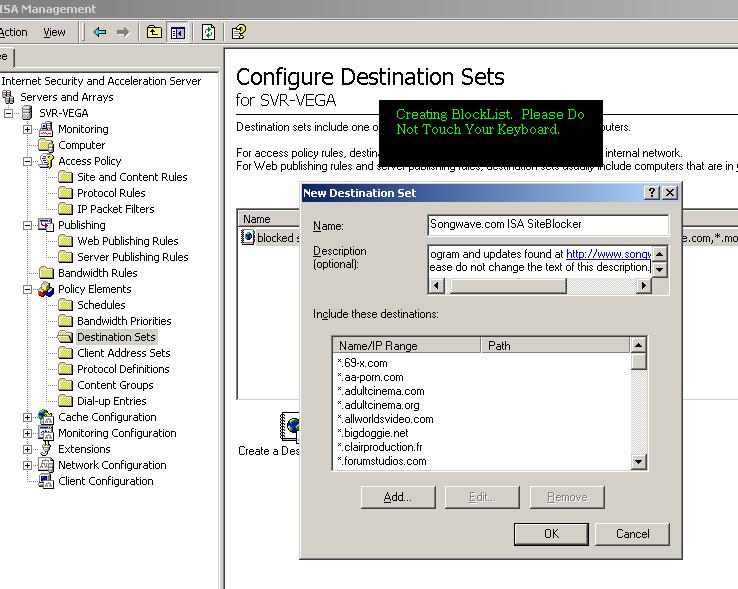 slow computer? Speed it up now!